Black cohosh is an indigenous flowering plant of North America. For centuries, the roots and the flowers of this plant have been commonly used in traditional North American medicine as a remedy for menopausal symptoms, fertility, and hormonal imbalance (1).
It functions as a phytoestrogen, a plant compound that mimics estrogen, one of the main hormones in women. Most often women experience hot flashes, night sweats, and mood changes, as they approach menopause. This results from fluctuating levels of hormones such as estrogen and progesterone.
Black cohosh helps with other symptoms related to menopause such as vaginal dryness, heart palpitations, tinnitus, vertigo, and sleep disturbances Many menopausal women using black cohosh supplements have reported a considerable reduction in these symptoms. (2).
Women can also take black cohosh supplements to ease PMS symptoms, menstrual cycle regulation, fibroids, polycystic ovarian syndrome (PCOS), relieve arthritis, and lower blood pressure (3), (4).
Below is our list of the best black cohosh supplements that are on the market now. Check them out!
Our Best Picks
1. Best Value Black Cohosh Supplement: Nature's Way Black Cohosh Root Vegan capsule
2. Best Black Cohosh Supplement with the highest purity: Solaray Black Cohosh Supplement veg capsule
3. Best Absorbable Black Cohosh powder supplement: BulkSupplement.com Black Cohosh Extract Powder
4. Best Black Cohosh Liquid Supplement: Herb Pharm Certified Organic Black Cohosh Liquid
5. Best Herbal Black Cohosh Supplement: Nature's Bounty Black Cohosh Root pills and Herbal Health Supplement
6. Best Overall Black Cohosh Supplement: Herbal Roots Certified Organic Black Cohosh Supplement
1. Best Value Black Cohosh Supplement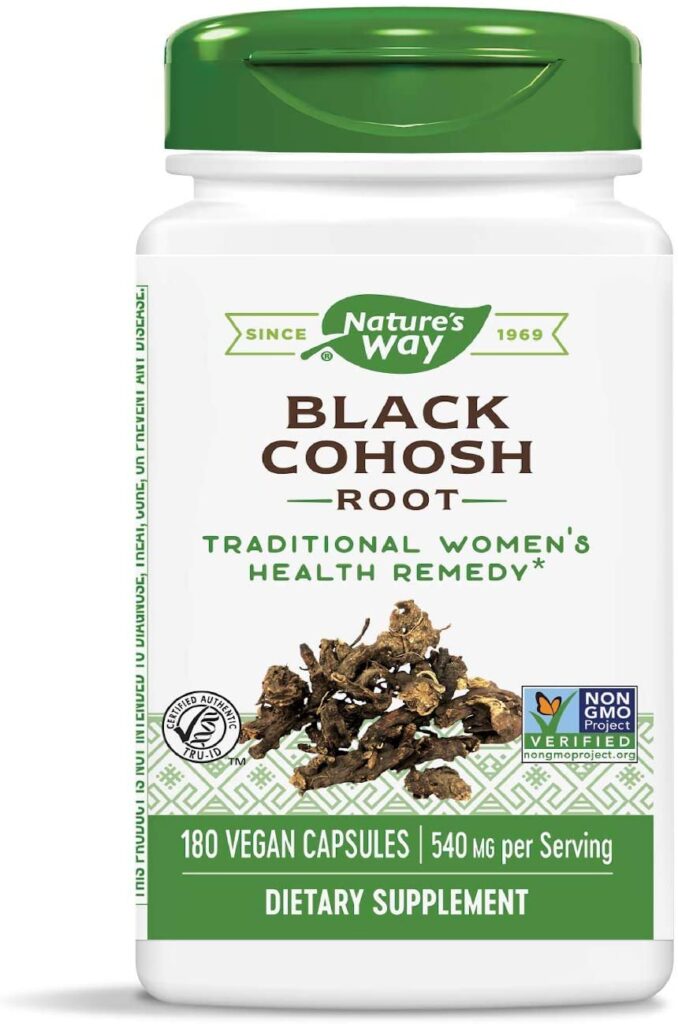 Nature's Way Black Cohosh Root supplement is our choice for the best value black cohosh supplement in the market.
About Nature's Way Black Cohosh Root Supplement
Nature's way black cohosh capsules bring to your doorsteps the benefits of this traditional herb that has been used by Native Americans for hundreds of years.
Certified for its authenticity by TRU-ID, it has the best customer review in the market. Nature's Way is Non-GMO Project certified, giving you the assurance that what's on the label is in the bottle.
What it Contains:
Each serving of 1 capsule has:
Black cohosh root – 540 mg
It is a plant-derived capsule that is great for vegetarians as well as vegans. The product comes with 180 veggie capsules that can cater to two months' supply.
The suggested dosage for this supplement is 1 capsule three times daily preferably with food or as directed by your health practitioner. The capsules are totally devoid of any fillers and contain modified cellulose and magnesium stearate which are suitable for vegetarians and vegans.
The product is completely free of sugar, salt, yeast, gluten, corn, soy, dairy products, artificial colors and flavors, wheat, and preservatives.
The Pros:
Non-GMO
No fillers
Vegan
No sugar, salt, yeast, soy, dairy, and wheat
Certified for authenticity from TRU-ID
Summary: Nature's Way Black Cohosh Root supplement is a gluten-free, Authentic TRU-ID certified, non-GMO project verified, vegan capsule that is completely free of wheat, soy, corn, salt, yeast, dairy, artificial colors, and flavors. It supports symptoms of menopause.
2. Best Black Cohosh Supplement with the Highest Purity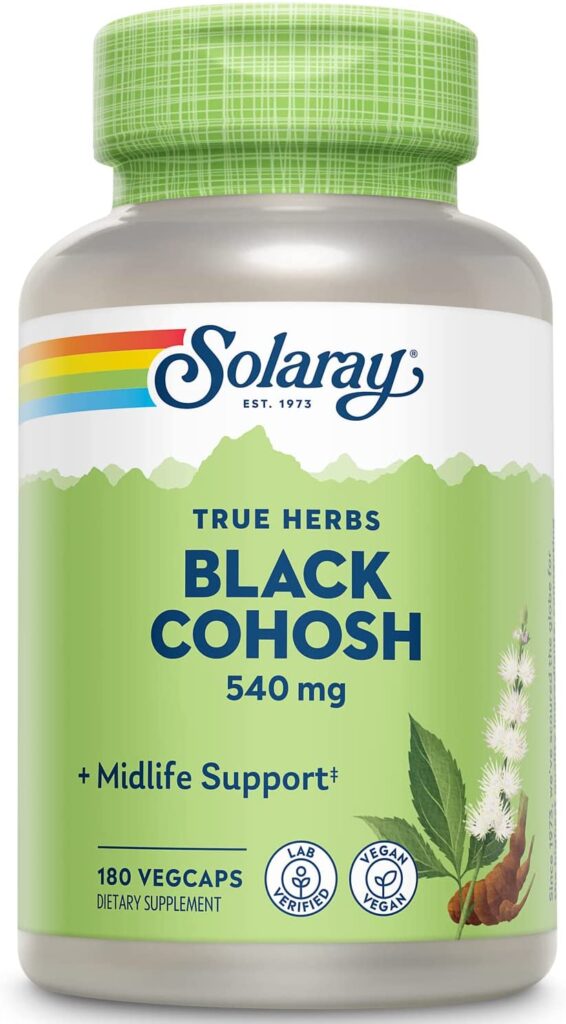 Dietary supplements have been manufactured to provide us with essential nutrients that help us improve our health. Usually, it bridges gaps and balances nutritional deficiencies.
However, many come up with a lot of additives in addition to the main nutrient required, which may not always be healthy. Therefore, products from a reliable and reputed brand that ensures the highest purity are the need of the day.
About Solaray Black Cohosh Supplement
Solaray Black Cohosh supplement is one of the top-quality supplements intended to provide exactly what you have asked for.
It renders active support to manage hot flashes, night sweats, and other related problems of menopause. It also contains biological molecules that help keep your bones healthy and strong, also important for women as they age.
Manufactured in their own facility in the United States, their lab verification process screens ingredients for impurities thereby ensuring potency and purity.
Produced from non-GMO ingredients, these veggie capsules are pure vegan.
What it Contains:
Each serving of 1 veg capsule provides you with:
Intended only for menopausal women, each bottle contains 180 capsules that can fulfill your requirement for almost 3 months. The recommended dosage is 1 capsule twice daily with a meal or a glass of water for good results.
The Pros:
Vegan veggie capsules
Non-GMO
Lab verified for purity
Lowers stress of menopause
Summary: Solaray Black Cohosh is a dietary supplement that supports women's health and menopause. These vegan veggie capsules are made from non-GMO ingredients and are lab-verified for potency and purity. They also contain biological molecules that are believed to help support strong and healthy bones.
3. Best Absorbable Black Cohosh Powder Supplement
Supplements in the form of powder are often preferred over capsules by some. Dosage adjustments are easier and can be mixed with drinks or foods of your choice for consumption.
Good powder supplements should not leave an aftertaste or chalky residue and should facilitate faster absorption. BulkSupplements ticks all the boxes and more.
About Bulk Supplements Black Cohosh extract
BulkSupplements Black Cohosh extract is a unique supplement that has been specially formulated to support both your perimenopausal as well as menopausal problems. Loaded with antioxidants, the supplement also supports the heart and cardiovascular system and boosts cognitive ability.
This Black cohosh supplement is exclusively packed and distributed by BulkSupplement in their NSF Certified, FDA-registered, cGMP facility in Nevada, USA. Bulk Supplements are a well-known supplier of 400+ nutritional supplements. Each product is subjected to intensive in-house testing for quality and safety.
The purity and authenticity are unmatched as it is lab-verified, the third party tested and inspected before putting it on the market.
What it Contains:
Each serving size of 80 milligrams has:
Black cohosh extract – 80 mg
This unique supplement is available as a pack of 500 gm (1.76 oz). You can also get 1 kg, 5 kg, or even 100-gram packs are also available for purchase.
The suggested dosage is 80 mg as a nutritional supplement once or twice daily. Bulk Supplement's Black Cohosh Supplement is totally vegan and free of added sugars, soy, dairy, yeast, gluten, and additives. The supplement has no aftertaste and is readily absorbed in the body.
The Pros:
Powder supplement with faster absorption
No harmful additives
No added sugar, yeast, soy, dairy, or gluten
Manufactured in the USA
Summary: BulkSupplement Black Cohosh extract is a natural powder supplement with a very high absorption rate. It is manufactured in an NSF Certified, FDA-registered, cGMP facility in the USA and is free from additives, sugar, and allergens. Highly effective for menopausal problems and promotes heart health.
4. Best Black Cohosh Liquid Supplement

For some people, ingesting tablets or capsules is difficult and so is adjusting a powdered supplement and having it. A liquid supplement serves as an excellent alternative for those who want instant results without popping pills.
Herb Pharm Certified Organic Black Cohosh Liquid
Herb Pharm Certified organic black cohosh liquid extract is a unique formulation for supporting the female reproductive system. It is a rapidly absorbed liquid extract that is prepared from certified organic Black cohosh (Actaea racemosa) plants.
The potency of the supplement is assured through High-Performance Thin Layer Chromatography (HPTLC) analysis and there are no synthetic solvents used. The liquid is extracted in organic cane alcohol or vegetable sourced glycerine, making it completely vegan-friendly and organic.
Herb Pharm Certified Organic Black Cohosh liquid is gluten-free and produced from non-GMO ingredients.
What it Contains:
Each serving of 0.7 ml has:
Black Cohosh rhizome with rootlet extract – 590 mg
HerbPharm Black cohosh liquid extract is made from the black cohosh herbs grown especially in their natural forest habitat in eastern Kentucky, United States. Each bottle contains 120 ml (4 fluid ounces) of liquid.
Shake the bottle very well before using it. Add 1 full squeeze of the dropper bulb to 2 oz. of water or juice, 2 to 4 times per day. It is best to take between meals.
Prepared from certified organic Actaea racemosa plants, vegan and gluten-free, this supplement is made from non-GMO ingredients, which are salmon-safe and bee-friendly.
The Pros:
Certified organic supplement
Non-GMO
Faster impact
Herb potency assured through HPTLC analysis
Summary: Herb Pharm Organic Black Cohosh Liquid Extract is a high potency, readily absorbable, non-GMO, a gluten-free liquid supplement that is specially made from black cohosh grown in natural forest habitat in Kentucky, USA.
5. Best Herbal Black Cohosh Supplement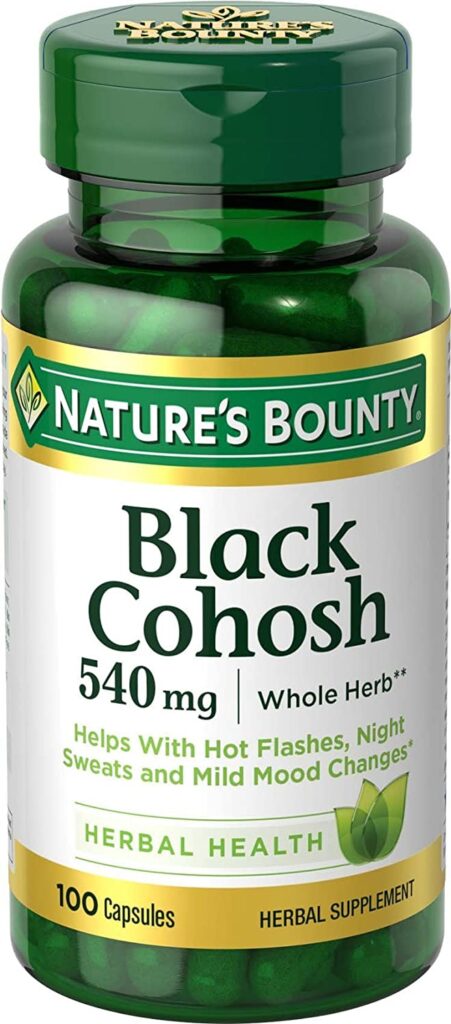 Herbal supplements have gained popularity because they are "natural" and safe. They guarantee the quality of the product and are mostly devoid of allergy-causing ingredients.
Nature's Bounty Black Cohosh Root pills and Herbal Health Supplement
Nature's Bounty Black Cohosh is specially formulated to support your hot flashes, night sweats, and mood changes of menopause with every ingredient herbal.
Nature's Bounty products have been trusted for decades as it excels in quality, consistency, and scientific research making them nutritional supplements of unrivaled excellence.
The supplement is totally organic and is laboratory tested to guarantee quality. Manufactured in the USA, Nature's Bounty black cohosh root pills are made from selective ingredients from around the world.
What it Contains:
Each serving of 1 capsule will provide:
Black cohosh (Cimicifuga racemosa) – 540mg
The supplement is available as a bottle of 100 capsules. The dosage is 1 capsule per day for adults preferably with a meal. It can also be popped open and prepared as tea.
A bottle can suffice your 3 months plus the need and can be a fair deal.
The other ingredients that are present in the supplement are gelatin, silica, and vegetable magnesium stearate. However, pregnant ladies should avoid the supplement as it has a chemical that may cause birth defects.
Nature's Bounty Black cohosh root pills do not contain any artificial color, flavor or sweetener, or preservatives. They are also devoid of sugar, starch, lactose, soy, gluten, yeast, fish, or sodium.
The Pros:
Herbal supplement
No artificial color or flavor
Sugar and gluten-free
Manufactured in the USA
Summary: Nature's Bounty Black Cohosh Root Pills and Herbal Health Supplement are capsules that are manufactured in the USA and specially made to support menopause-related problems. There is no artificial color or flavor in this supplement. It is also free of yeast, fish, sodium, gluten, lactose, and sugar. With 100 capsules per bottle, it meets your needs for more than 3 months.
6. Best Overall Black Cohosh Supplement Root supplement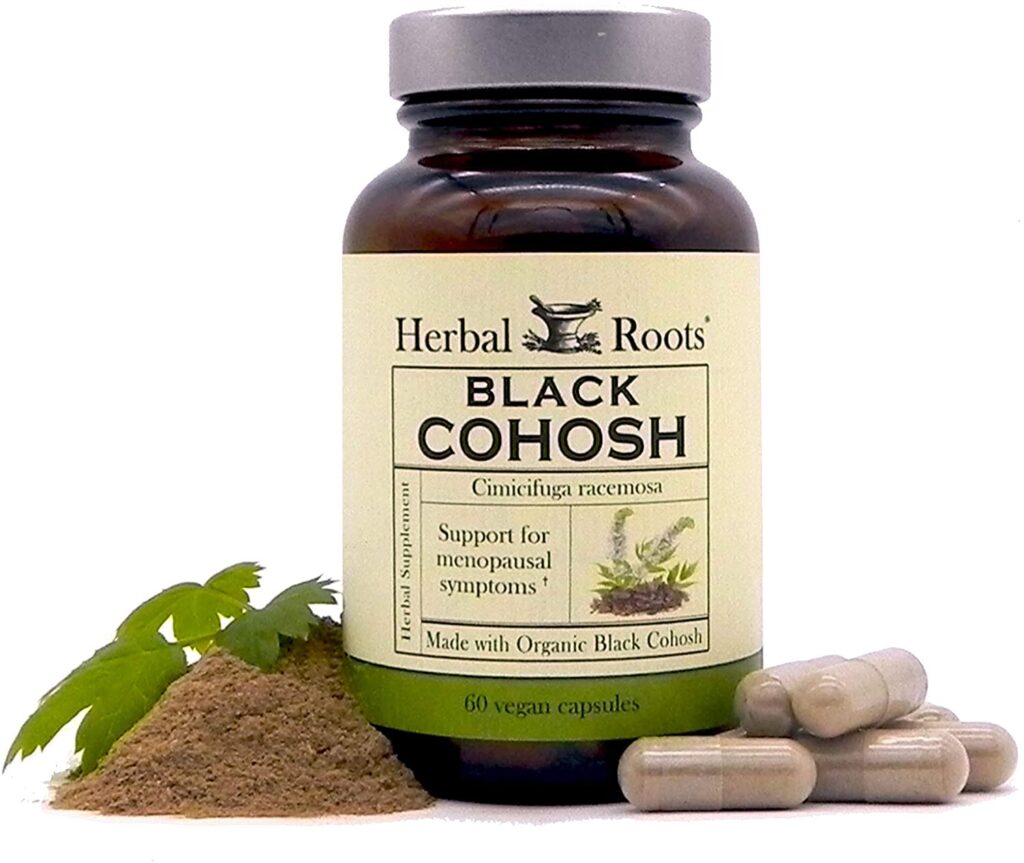 When a supplement ticks all the boxes regarding quality, purity of the ingredient, suitability, potency, and strength, we chose it as the best overall supplement in the market. Herbal Roots Certified Organic Black Cohosh Root is exactly that and more.
About Herbal Roots' Black Cohosh
Herbal Roots' Black cohosh supplement is manufactured specially to reduce the symptoms of menopause and perimenopause. It can bring relief from symptoms such as excessive bleeding and painful menses.
The extra strength provided by the supplement also aids in the dilation of the bronchioles and provides lung support.
What it Contains:
Each serving of 1 vegan capsule will give you:
Organic black cohosh – 600 mg
There are 60 capsules in each bottle and the dosage is 1 capsule per day. Therefore, one bottle can meet your requirement of 2 months easily making it a great choice for the price you get.
The capsules do not contain any food allergens such as soy, gluten, wheat, tree nuts, and peanuts. They are also free of sugar and preservatives.
Manufactured in the USA, Herbal Roots' is a certified organic product (CCOF) and is vegan. Made from non-GMO ingredients, these capsules are gluten-free and do not contain any binders, fillers, or additives.
The Pros:
Certified organic by CCOF
Vegan and pure
Extra strength
Gluten-free
Non-GMO
Summary: Herbal Roots Black Cohosh supplement is manufactured in the USA, certified organic by CCOF, vegan, gluten-free, and made from non-GMO ingredients. It's pure, packs extra strength per capsule and one buy can easily suffice your 2 month's need.
Benefits and Uses of Black Cohosh
The biggest reason for taking black cohosh supplements is their efficiency in alleviating menopause symptoms.
Studies have observed that regular supplementation with black cohosh can markedly reduce the frequency and severity of hot flashes. Other studies have shown that black cohosh supports women's reproductive health (5), (6), (7).
It also helps lower the incidence of other menopausal symptoms which include:
Vaginal dryness
Heart palpitations
Tinnitus
Vertigo
Sleep disturbances
Nervousness
Irritability
Vertigo
Sleep
As Black cohosh helps support hormonal balance, a few more reasons for taking this are:
Help to regulate the menstrual cycle in women with PCOS (polycystic ovarian syndrome)
Help decrease the size of uterine fibroids
Support premenstrual syndrome (PMS) and premenstrual dysphoric disorder (PMDD)
Summary: Black cohosh supplements help relieve menopausal symptoms such as hot flashes, night sweat, sleeplessness, and mood disorders. It can also effectively support premenstrual syndrome and support hormonal balance.
Dosage for Black Cohosh Supplements
Black cohosh supplements are easily available in capsule, liquid extract, powder, and even tea form. They are mainly made from roots and rhizomes (underground stems) of the medicinal plant.
The active compounds in black cohosh that may be the reason behind its benefits are triterpene glycosides such as actein, 23-epi-26-deoxyactein, and cimicifugosides. Other compounds are resins which are cimicifugin, and aromatic acid derivatives like caffeic, isoferulic, etc.
The key ingredient however is fukinolic acid, a compound that mimics estrogen and helps support age-related declines in estrogen levels.
The British Herbal Compendium recommends 40-200 mg of the herb in dried form spread throughout the day. However, traditionally much higher doses spread out evenly in three doses are recommended. Therefore, most brands provide 540-600 mg in 1 capsule and recommend taking it 2-3 times daily.
In liquid or tincture form, a dose of 0.4-2 milliliters of a 60 percent ethanol mixture is known to be enough. For teas and powder forms, which are less readily absorbed in the body, 1-2 grams are recommended three times daily.
For menopause symptoms, studies have verified that at least 20 mg of black cohosh daily is effective, which most brands offer (8), (9).
Summary: Black cohosh supplements dosage as recommended is 40-200mg of the herb in the dried form. However, most brands provide 540-600 mg per serving and recommend taking 2-3 times daily in pill or capsule form. Even though the dosage is higher, it is effective and safe.
Risks and Side Effects of Black Cohosh Supplements
People have taken black cohosh supplements for as long as 12 months with no serious harmful effects. However, as the FDA does not regulate black cohosh, the ingredients may differ from brand to brand. Some vendors can also have adulterants in the supplement that may include pharmaceutical and synthetic analogs.
Trace amounts of heavy metals are also found in some unregulated supplements. These adulterants can also cause certain adverse effects and it is difficult to determine whether the effect is from the actual extract or the adulterants.
Black cohosh supplement is not safe for:
Pregnant ladies as it may induce labor
Women with breast or uterine cancer
Children under the age of 18
People with liver diseases
Those who are at high risk of stroke, blood clots, or seizure disorders
People who are allergic to allergic
Women who have endometriosis
Side effects
Black cohosh supplements can cause some mild side effects such as stomach upset, headache, rash, vaginal spotting, and weight gain (10).
The side effects reported with black cohosh consumption are musculoskeletal complaints, uterine bleeding, and breast pain. Also, those who have taken large doses report gastrointestinal side effects and rashes.
However certain commercial products that contain black cohosh and other herbs have been the cause of some very serious liver damage, though very rarely. Symptoms of liver trouble are abdominal swelling, dark urine, or jaundice.
Therefore, people who have pre-existing liver problems or are under medication that affects the liver should check with their health care provider.
Dizziness, nausea, and vomiting are less common side effects.
Drug interactions
If you are taking certain medications such as birth control pills, hormone replacement therapy, sedatives, and blood pressure medicine, it is better to avoid black cohosh supplements. They interact with each other and can cause unfavorable effects.
Summary: Black cohosh supplements are usually safe when taken as per directions. In some, though mild symptoms are observed such as gastrointestinal problems. People with liver problems should avoid taking it.
Frequently Asked Questions (FAQs)
What is black cohosh supplement good for?
Black cohosh has been scientifically proven to be highly effective in dealing with menopausal symptoms such as headaches, hot flashes, mood changes, night sweats, and vaginal dryness. Some studies also state black cohosh to support regulating periods, ease PMS symptoms and induce labor.
How long should you take a black cohosh supplement for it to start working?
Women who have been taking black cohosh supplements have reported significant improvement within a few weeks of using the substance. However, it is not recommended to be taken more than one year because of its bad effects on the liver.
Does black cohosh help with sleep?
One of the most prominent problems of menopause is sleep problems. Studies have observed that black cohosh can effectively improve sleep in early postmenopausal women and can be a great nutritional supplement in managing menopausal sleep disturbances.
Is black cohosh good for anxiety?
Studies have confirmed that black cohosh supplements indeed are effective in alleviating mood and anxiety changes during menopause. However, you should be careful of the dosage you are taking. It is also better to avail the guidance of your doctor.
Does black cohosh make you gain weight?
Black cohosh supplements help to significantly reduce serum luteinizing hormone (LH) levels, gain lesser weight than the ones in the control group, and help decrease free fatty acids and cholesterol in the body. Plasma triglycerides are also significantly lower in the black cohosh supplement group.
Which is better: black cohosh or evening primrose?
Black cohosh is more effective in managing menopausal symptoms in comparison to evening primrose. Even though both herbs are effective in reducing the severity of hot flashes, black cohosh is more effective than primrose as the former is able to reduce the number of hot flashes too.
The Final Note
Black cohosh is a medicinal herb from the buttercup family and is also known as bugbane, rattleweed, and black snakeroot. For ages, black cohosh roots and/or rhizomes have been used to alleviate menopausal symptoms.
The active compound in black cohosh is fukinolic acid that mimics the action of estrogen, a female sex hormone. It acts as a phytoestrogen that helps maintain hormonal balance and reduce menopause-related complications.
Most reputed brands of black cohosh supplements bring you the benefits with minimum or no side effects. They are third-party tested for authenticity, mostly vegan, organic, and pure, silently supporting your menopausal nightmares.
Available in all forms, pills, liquid, veggie capsules, powder, and teas, you can take whatever suits your needs. When taken within the recommended dosage, it is safe. Best to take your doctor's advice before using it.